Recently Lau Jensen wrote a post talking about the features of Emacs and why it increases the productivity of Clojure programmers. While I don't disagree that lisp programming in general benefits greatly from using Emacs as an editor, there are simply people who are too heavily invested into Vim (like myself) for things like viper-mode to work for them. So, I thought I'd share how I do Clojure development with Vim. Throw in my 2 cents.
The key (for me) to editing Clojure code in Vim is a combination of two plugins, VimClojure and slime.vim (see associated blog post). One of the difficult things is that slime.vim doesn't actually exist anywhere on vim.org's list of scripts, so it has to be downloaded from the aforementioned blog post. Stick it in the ~/.vim/plugins directory to install it.
First, VimClojure. I tend not to use Nailgun at all, some people like it, I don't. So instead of the regular install for vimclojure, I copy over the files from the autoload, doc, ftdetect, ftplugin, indent and syntax folders to their respective Vim folders. If you think you'll want the Nailgun functionality, you should use the installation instructions provided by Kotarak.
Now, add the settings you need for VimClojure to your .vimrc:
" Settings for VimClojure
let g:clj_highlight_builtins=1      " Highlight Clojure's builtins
let g:clj_paren_rainbow=1           " Rainbow parentheses'!
I have to say, rainbow parentheses' is one of the best features of vimclojure, making it easy to see exactly what parentheses closes which statement:

Now that VimClojure is set up, time to set up the integration with Clojure's REPL, to do that I use slime.vim. Slime.vim uses screen to send the input from your editor to any window in a running screen session, so to get started we'll have to start up a screen session. To make it easier, you can name it something so you don't have to look up the pid, I'll call this session "clojure":
‹ ~ › : screen -S clojure
If you didn't name your session, or forgot what you named it, you can use screen -ls to look up all the screen sessions you've started:
‹ ~ › : screen -ls
There are screens on:
41837.clojure (Attached)
8970.ttys000.Xanadu (Attached)
8990.ttys001.Xanadu (Attached)
9010.ttys002.Xanadu (Attached)
4 Sockets in /tmp/screens/S-hinmanm.

Now, start a REPL in the screen terminal window (use 'clj' or 'lein REPL' or however you like to start a Clojure REPL). Next, open a clojure file with Vim, highlight a block of code (slime.vim will automatically select a paragraph if your cursor is in the middle of something like a defn), now, press Control-c + Control-c (Ctrl+c twice in a row). You should be prompted by Vim like this:

Enter the name of the screen term, if you named your session "clojure" you'd enter "clojure", if you didn't name it, use the pid number you see from the output of 'screen -ls', next it will ask for which window to send the output to:

If you've used screen before (and I'm assuming you have), this is the window number your REPL is running on. After you enter this information the plugin will send the paragraph/line of text to the REPL. From here on the session id and window will be cached, so hitting ctrl+c,ctrl+c again will immediately send whatever function the cursor is on to the REPL. You can also select a block of code using visual mode and use ctrl+c,ctrl+c to send everything selected to the REPL. If you used the wrong numbers, use ctrl+c,v (Control+c, then v) to have slime.vim ask you for the numbers again.
There you go, you now have a 1-way pipe from your Vim editor to any kind of REPL (be it Clojure, Ruby or Python). Here's a couple of screenshots of the plugin in action: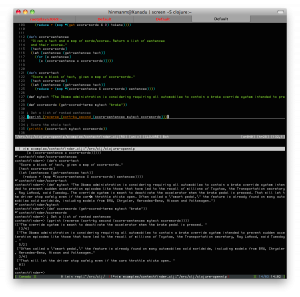 I know this doesn't even come close to the amount of integration the Emacs has using SLIME, but for me, this is exactly what I want out of a Clojure development environment, develop some code and be able to easily send it to a REPL. Hopefully a Vim user or two out there will find this setup useful.
UPDATE: If you're interested in my full Vim setup for some reason, you can check it out here.
UPDATE 2: Want to automagically fold Clojure methods when using Vim? Check out this post.